What is CueScript?
Anyone who works with prompting has probably heard of CueScript. CueScript designs ingenious, high-quality teleprompting products and systems. Home to the world's first complete IP-based prompting solution, CueScript features IP throughout its product line, in addition to conventional connections, providing flexibility, choice, and a future-proofed purchase. CueScript also has a dedicated support team and a firm belief that customer service is paramount.
With such global popularity, it's not surprising that our clients, including BBC Morning Live, also use CueScript, so it was a matter of time for us to develop seamless integration with it!
CueScript + TinkerList = always-in-sync prompting
Prompting is essential to any show that requires presenting of a host. However, as mentioned in our article about talk show production, it is often a challenge for the teleprompter operator to reload the script to the prompter over and over again each time a new adaptation is made to the script.
Moreover, producers often don't take the prompter text into consideration when writing the script, which makes it very time consuming for the operator to adapt the text so everything is set up the right way and the text is nicely readable for the host. Fortunately, CueScript configured different newsrooms to connect with such as Octopus, iNews, and TIPS. As TinkerList is integrated with CueScript as well, you can easily sync all your rundowns and scripts created in our platform and send all rundowns that are available to prompt integrally to CueiT (CueScript's software).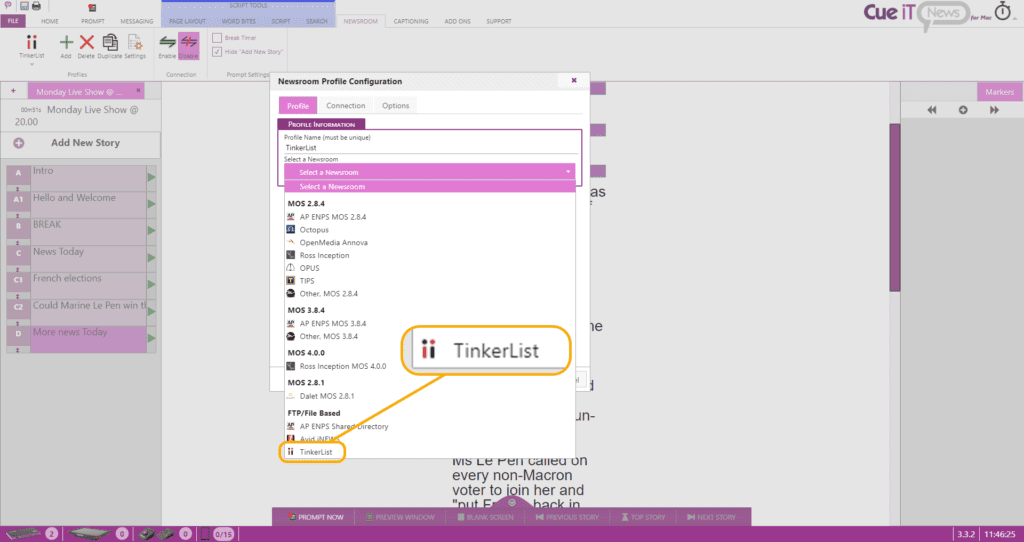 As the structure of the rundown and script in TinkerList is already adapted to prompter text, the teleprompter operator only needs to select the right rundown and do a final check. On top of that, as CueiT is synced with TinkerList — all changes made in our platform are automatically updated in CueiT as well. No more going back and forth with changes and reloading Word scripts to the prompter!