PRESS RELEASE – Transforming Device Interconnectivity in Live Broadcasting and Media through APIs
August 24, 2023 – Leuven, Belgium — TinkerList.tv, a trailblazer in live content production tools, is set to debut its groundbreaking platform Cuez, at IBC 2023. This launch marks a significant shift in rundown creation and broadcasting automation in live studio shows, news, sports, eSports and other live events in the media industry.
Picture this: A journalist uploads a video from Times Square directly to the rundown in real-time, and it is immediately accessible to everyone involved in today's broadcast. Whether it is the operator in the studio gallery, the editor-in-chief working remotely, or the audio mixer at an external location, Cuez unifies scripts, rundowns, assets, content, and technical notes into a single, accessible platform.
Empowering producers to craft captivating live content with ease has always been core to TinkerList's mission. With the new revamped rundown solution, Cuez, we continue to lead the way in collaborative and automated media production. What does it mean? It means that production teams, both in technical and editorial roles, can collaborate effortlessly from anywhere, anytime, directly in the rundown.
But it's not all. Erik Hauters, founder of TinkerList.tv, explains: "As a director, I envisioned an environment where not only all participants of the editorial team and production crew can collaboratively create and adapt content during all stages of television production, but we also take media production to a whole new level by automating manual process as much as possible. Through an innovative, cloud-based approach, we aim to seamlessly integrate and sync all devices with your rundown via an open API. This ushers in a new way of working, where your workflow dictates what devices are being used, not the other way around."
TinkerList.tv's achievements were selected as one of eight innovation projects for this year's IBC Accelerator Innovation Programme. Their project, 'Gallery Agnostic Live Media Production', partnering with champions BBC, ITN, TRANSMIXR, Yle, and TV2 and together with Singular.live, Techex, Grass Valley, and ZIXI, empowers production teams to work:
Device agnostic: Synchronise rundowns with any kind of device, including play-out devices, graphical engines, prompter software, and more.
Gallery agnostic: Seamlessly connect to all devices, regardless of their location—be it a gallery, studio, or OB truck.
Hybrid: Switch effortlessly between on-premises and cloud-based work, adapting to broadcasting needs or unexpected and unforeseen circumstances.
Focused on the fast-paced demands of live-to-air broadcasting, the IBC Accelerator challenge aims to demonstrate how to decide and adapt the technical toolset needed for any given project at any given time while keeping the editorial producer workflow consistent and at the centre at all times and the user interface the same. This project emphasises the significance of standardised APIs for improved device interoperability. As software-driven devices gain prominence, TinkerList.tv invites broadcasters and vendors to join them in defining these industry standards through an Open Call collaboration.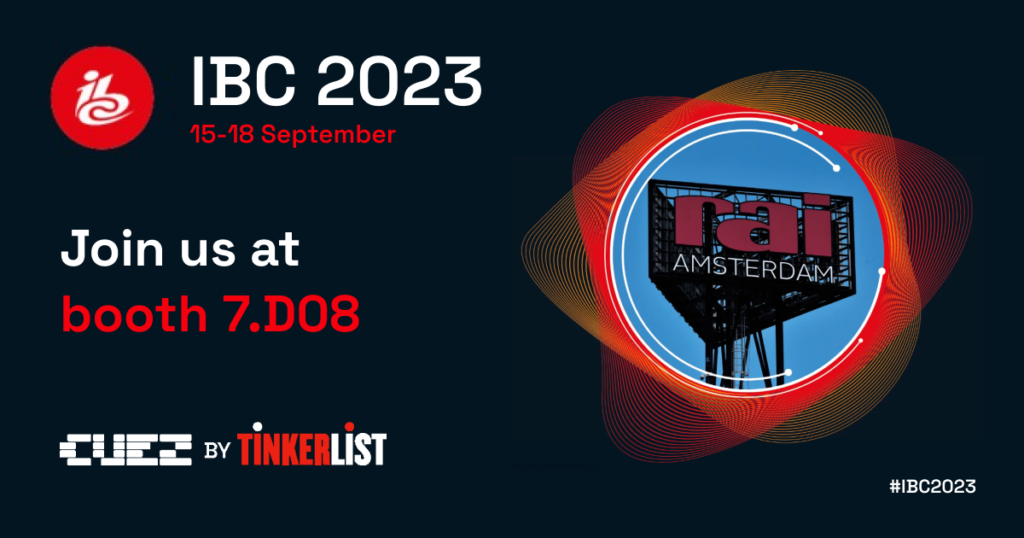 Want to know more?
Catch the Gallery Agnostic Live Media Production project, showcasing its PoC and findings at IBC2023, Saturday 16th of September, from 10:45-11:45 at the Innovation Stage.
Visit TinkerList.tv at IBC 2023 Amsterdam / September 15 – 19, 2023, at Hall 7, booth 7.D08