TinkerList Privacy Policy
---
TinkerList.tv (hereinafter "TinkerList") considers the privacy of your personal data as a matter of the utmost importance and is committed to processing your information in accordance with the law, the present Privacy and Cookie Policy (hereinafter the ''Policy" or "Privacy Policy''), and the applicable standards of fair information practices.
This document offers you a description of how TinkerList uses this data, as well as your rights associated with TinkerList's use of your data. This policy applies specifically to customers, applicants, suppliers, business partners, visitors of our website tinkerlist.tv, users of our web service (TinkerList) or application (Cuez) or other persons who contact us (e.g. via chat). When reference is made to the "TinkerList Platform", we mean all services offered via the web service or application.
Accessing or using the website, web service or mobile application implies your express approval (via handing us your personal information, or via opt-in) of this Privacy Policy. This means that you consent to how TinkerList collects, uses and processes your personal information. If you do not accept this Privacy Policy, you are no longer allowed to use the website, web service or application of TinkerList. TinkerList may access or use your data either with your express approval, to perform the services detailed in an agreement or for any lawful basis.
TinkerList reserves the right to change, modify and update this Privacy Policy from time to time by posting a revised version on our website. Therefore, we recommend you regularly consult this Policy, to make sure that you are aware of any changes.
1. General
1.1 TinkerList.tv, a private limited company (bvba), incorporated under Belgian law, having its registered office at Sluisstraat 79/3 3000 Leuven, is the entity that is responsible for your personal data ("data controller") when the processing personal data listed in Section 2.1. You, as a user of the TinkerList webservice, will provide us with ideas, concepts, scripts, audiovisual material, and other creative work. When processing this information, TinkerList acts as a processor of your organization. TinkerList is fully committed to protect the private nature of this information.
1.2 This Privacy Policy for the protection of your personal data is strictly compliant with the European Union Regulation of 2016 concerning the protection of individuals with regards to the processing of personal data, regarding the free movement of such data and repealing Directive 95/46/EC ("GDPR").
1.3 If you have questions about this Privacy Policy, or the manner in which TinkerList collects, uses or otherwise processes your personal information, please contact us by sending an email to the following email address: legal@tinkerlist.tv
2 Categories of personal data TinkerList collects
2.1 TinkerList may collect personal data that is provided by you or by third parties to the extent necessary or useful for the operation of the website or its services. Such information may consist of: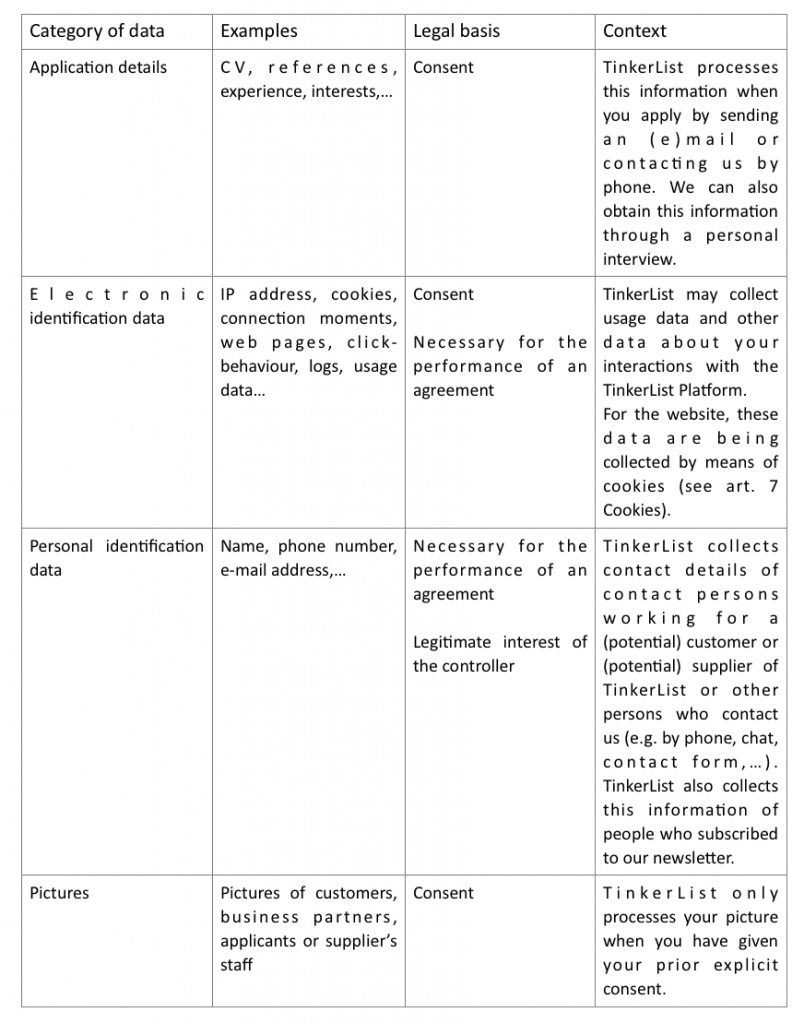 2.2 TinkerList does not collect sensitive personal information of its visitors, customers or suppliers (e.g. data relating to race or ethnic origin, religious beliefs, criminal record, physical or mental health, or sexual orientation). TinkerList shall, where necessary, obtain your explicit consent to collect and use such information.
2.3 You are not obligated to provide us with your personal data, however, the performance of several services may not be possible if you choose not to provide your personal data.
3. How will my personal data be used?
3.1 General purpose
TinkerList collects and processes your personal information in order to offer you a safe, comfortable, and personalized experience each time you visit the website or utilize our services.
The information we collect about you is primarily processed to help us ensure proper technical functioning and to improve the quality and content of our website and services – based on the lawful purposes of "consent" for the website, "legal obligations" and "contractual necessity" for services, or "legitimate interest" as allowed under GDPR.
With that said, your personal data will only be processed for the following (internal) purposes: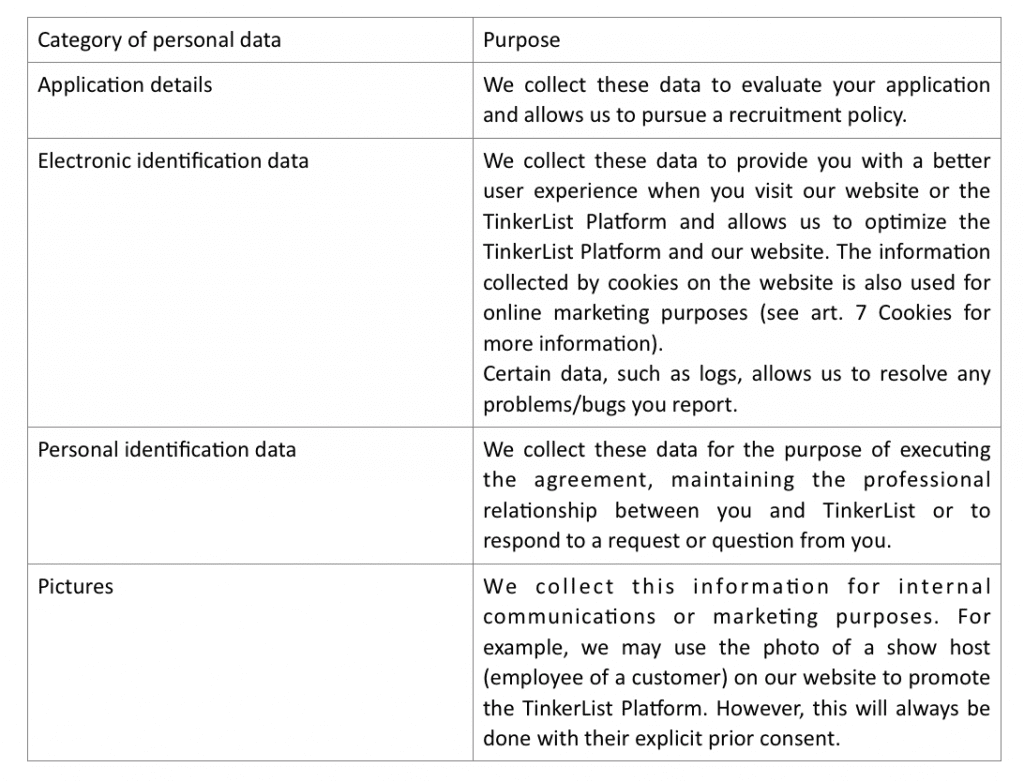 3.2 Direct marketing
TinkerList may also use your personal information for the purpose of marketing our products and services. If you do not want to receive marketing material from us, you may opt out or exercise your right to object (Article 5) by sending us an email to legal@tinkerlist.tv
3.3 Transfer of personal data
In order to process your personal data, we provide access to our employees.
TinkerList will not disclose your personal data to third parties, unless it is necessary in the context of providing our services and/or optimising them. To that end, TinkerList may disclose your personal data to third parties who assist TinkerList in the execution, management and control of its activities, including reporting, support, customer service, computer security or offering specific services and products. It may happen that a third party is commissioned to collect, process and/or analyse the data. Furthermore, it may be necessary to provide the personal data to a third party in order for TinkerList to be able to supply a product or service that you have ordered. These third parties may only use the data for the aforementioned purposes and instructions of TinkerList. Any other use is not included and is prohibited.
Consequently, TinkerList will not sell, hire out or pass on your personal data to third parties, except in the situations provided for in this Policy or unless you explicitly provide prior consent.
In addition, it is also possible that TinkerList will disclose your personal data:
If TinkerList is obligated to do so, following a court order or to comply with imperative laws and/or regulations, or permitted by applicable law in order to safeguard and defend our rights or protect the property or safety of others.
In case of whole or partial reorganization or cession of TinkerList's activities, whereby TinkerList reorganizes, transfers or ceases business activity, your personal data may be transferred to new entities or third parties.
4. How long will we hold your personal data?
TinkerList only processes your personal information for as long as necessary.  This means that we do keep a record of your data for as long as it is required or justified by the law or by another legal obligation, or for the period for which this would be necessary for the aforementioned purposes. Based on the categories of data described in Section 2.2, we hold your data as follows:
5. Your rights as a data subject
5.1 Right of access and right to obtain a copy
You have the right to obtain access to your personal data, as well as to be informed about the purpose of the processing by TinkerList.
5.2 Right to rectification, erasure, or restriction
You have the choice to share your personal data with TinkerList. You also have the right to request TinkerList to rectify your personal data or have it erased. You can also request the processing of your personal data to be restricted.
When you choose not to share data, or when you request that we erase your personal data, we may be prevented from providing you with several services and access to the website or the TinkerList Platform.
5.3 Right to object
You have the right to object to the processing of your personal data when you have legitimate reasons to do so. You also have the right to object to the use of your personal data for purposes of direct marketing. In such case specific reasoning will not be requested.
You may opt out of receiving email communications by using one of the following methods:
Select the email "opt out" or "unsubscribe" link, or follow the opt-out instructions included in each email communication.

Contact us at

legal@tinkerlist.tv

. Be sure to provide your name, relevant contact information, and specific relevant information about TinkerList communications that you no longer wish to receive.
Please be aware that when you opt out of receiving certain subscription communications, it may affect the services you have chosen to receive from TinkerList where accepting the communications is a condition of receiving the services.
5.4 Right to data portability
You have the right to obtain your personal data which is processed by TinkerList in a structured, commonly used and machine-readable format and/or to transfer this data to another data controller.
5.5 Right to withdraw consent
When the processing is based on prior consent you have the right to withdraw this consent.
5.6 Automated decisions and profiling
The processing of your personal data does not include profiling, nor shall you be subjected to automated decisions.
5.7 Exercising your rights
To exercise the above-mentioned rights, or to raise a question, comment or complaint, send an e-mail with an enclosed copy of the frontside of your identity card to legal@tinkerlist.tv
5.8 Right to file a complaint
If you have any complaints about the way TinkerList collects, uses and/or processes your personal data, you have the right to file a complaint with the Belgian Data Protection Authority or Supervisory authority, which is the Lead Supervisory Authority of TinkerList:
Gegevensbeschermingsautoriteit
Drukpersstraat 35, 1000 Brussel,
Tel.: +32 (0)2 274 48 00 Fax: +32 (0)2 274 48 35,
Email: contact@apd-gba.be
However, you are always free to contact your own European or EU-vested authority.
6. Safety and confidentiality
6.1 TinkerList undertakes all reasonable efforts as required by applicable law to prevent (i) unauthorized access to your personal information, and (ii) loss, abuse or alteration of your personal data, by using physical, administrative and technological measures to protect the information maintained.
TinkerList uses Secure Sockets Layer (SSL) technology supporting 128-bit encryption
All data transmitted from and to our website and web services is encrypted (HTTPS/TLS)
Database is encrypted and is only accessible via a tunnel combined with an ssh token.
Internal password policy
All data is stored on secure datacentres via Amazon RDS
6.2 You shall be solely responsible for your own user content, such as content you upload to the website or TinkerList Platform, and the consequences of posting submitting and/or publishing it. TinkerList is not responsible or liable to you or any third party for the content or accuracy of any user content posted by you or any other user of the website or web services, and TinkerList expressly disclaims any and all liability in connection with user content to the fullest extent permitted by applicable law.
6.3 TinkerList assumes no responsibility regarding the privacy policy of the websites or digital platforms that are linked on the website. Moreover, TinkerList shall not be liable in any way for direct or indirect damages caused by a wrongful or improper use of your personal data by such third parties.
6.4 Ideas, concepts, scripts, audiovisual material, and other creative work ("Content") that is uploaded into the TinkerList Platform will be treated strictly confidential and will only be disclosed to third parties in accordance with the TinkerList Terms of Service. The TinkerList Platform provides features to export, share, duplicate your work and invite others to access and use your Content. Consider carefully who to invite, what content to share with whom and what rights you will grant them. We take no responsibility for breaches in confidentiality related to such actions.
7. Cookies
7.1 What is a cookie?
A "cookie" is a small text file that can be sent from a web server to your computer that is then stored on your computer. When a cookie is stored on your computer each subsequent request to the same domain name will also send along the data stored in the cookie until the cookie expires or is deleted. A server can only give you a cookie if you make a request to that server. The cookie is only stored if your browser/client is configured to store cookies.
7.2 Why do we use cookies?
Cookies help provide additional functionality to the site or to help us analyze site usage more accurately. For instance, our server may set a cookie that keeps you from having to enter a password more than once during a visit to one of our sites. In order to manage the TinkerList Platform and website, TinkerList collects information on the IP address used when the computer that a user is using connects to the Internet.
We only use the IP addresses collected through the TinkerList Platform or website to ensure the appropriate and secure management and operation of the TinkerList Platform's services. In addition to preventing unauthorised access, the collection of IP addresses enables quick identification of the cause and restoration of normal operations in the event of a failure of the TinkerList Platform or website. We do not use or disclose IP addresses in connection with individuals' personal information.
While we collect information on how you use the TInkerList Platform's and website's services, we preserve the anonymity of individual users in the use or disclosure of this information. However, when we deem it necessary for the protection of the TinkerList Platform, website or of its users/visitors, we may implement measures by using IP addresses to identify individuals.
TinkerList Platform
On the platform itself TinkerList uses its own cookie to trace the route followed by users to access the platform, to record users' activities on the platform, and to assess and improve the design for the benefit of users.
TinkerList does not, however, use cookies to record information concerning individual users, and consequently no information on specific users is stored or used.
TinkerList does not use cookies to track the navigational habits of identified visitors outside of TinkerList. We do not use third party advertising companies to provide advertisements. We do not allow third party advertisers to track your browsing.
Website
In addition to the earlier mentioned cookies, the website also uses cookies from trusted third parties (including Google analytics, Facebook pixel and Hubspot). For cookies placed by third parties please refer to the policies that these parties provide on their respective websites. Please note that we do not have any influence on the content of these policies or on the content of these third party cookies.
Google analytics which is one of the most widespread and trusted analytics solution on the web for helping us to understand how you use the site and ways that we can improve your experience. These cookies may track things such as how long you spend on the site and the pages that you visit so we can continue to produce engaging content.
Facebook pixel allows us to contact you via Facebook and Instagram and divide website visitors into groups. Based on this pixel, TinkerList can contact you back on Facebook and/or Instagram.
Hubspot cookies may track things such as how long you spend on the site and the pages that you visit so we can continue to produce engaging content. As we sell products it's important for us to understand statistics about how many of the visitors to our site actually make a purchase and as such this is the kind of data that these cookies will track. This is important to you as it means that we can accurately make business predictions that allow us to monitor our advertising and product costs to ensure the best possible price.
Social media plugins allow you to connect with your social network in various ways. For these to work the following social media sites including; Instagram, Facebook, Twitter, LinkedIn, will set cookies through our site which may be used to enhance your profile on their site or contribute to the data they hold for various purposes outlined in their respective privacy policies.
7.3 Kinds of cookies we use
Strictly necessary cookies – As the name suggests these cookies are strictly necessary to enable you to move around or remain logged into the websites or to provide certain information that you have requested.
Tracking cookies – These cookies are used to record information such as how a visitor initially came to a website and how long they stayed and which pages they viewed. These tracking cookies are also third-party cookies (see below).
Third party cookies – For cookies set by third parties we kindly refer you to the statements set forth by these parties on their respective websites. Beware, we do not have any influence on the content of these statements nor on the content of the cookies of these third parties. Though these cookies can also be disabled by browser settings.
7.4 Your permission
When you first visit our website, you express your implicit approval to accept our different kinds of cookies.
You can block cookies by altering your browser's settings. The rejection of these cookies may inhibit some functionalities on the Websites.
Currently, some browsers offer a "do not track" or "DNT" option which sends a signal to websites visited indicating a visitor's tracking preference. TinkerList does not currently respond to these signals, because no common industry standard for DNT has been adopted by industry groups, technology companies or regulators. The third-party providers TinkerList uses may or may not do anything in response to this signal.
More information on cookies can also be found via the following link: allaboutcookies.org
More information on online behavioral advertising and online privacy can be found via the following link: youronlinechoices.eu
8. Applicable law and jurisdiction
This Privacy and Cookie Policy is managed, interpreted and executed in accordance with the laws of Belgium which exclusively applies to every potential dispute.
The competent courts of Leuven (Belgium) shall have exclusive jurisdiction in relation to any kind of disagreement that could arise from the interpretation or execution of the present Privacy Policy.
9. Questions
Questions, comments and requests regarding this Policy are welcomed and should be addressed to
TinkerList
De Hoorn – Sluisstraat 79 03.01 
3000 Leuven
Belgium
Or electronically to legal@tinkerlist.tv