Nowadays we have a myriad of newspapers, TV and radio channels, podcasts, magazines, websites, apps and social media to get our worldly news and updates. We get bombarded with information through all types of media. As there is an endless and continuous information flow due to digitalisation, literally everyone with an internet connection can share and look for the content they want. The consumer calls the shots, news rooms have to answer to their needs and keep up with the accelerated workflow as well. As a consequence, online news studios rose to the surface that could provide quick breaking news as soon as it happened.
The difference between a linear and a web studio
Linear news production
Generally speaking, a linear broadcast studio is built by choosing and combining the hardware that best suits the station's goals and requirements. This defines which cameras, lenses, dollies, graphics systems, vision- and audio mixers and so on are chosen. In addition, whether or not to automate the studio depends on this. If you're curious about automation, take a look at our complete automation guide.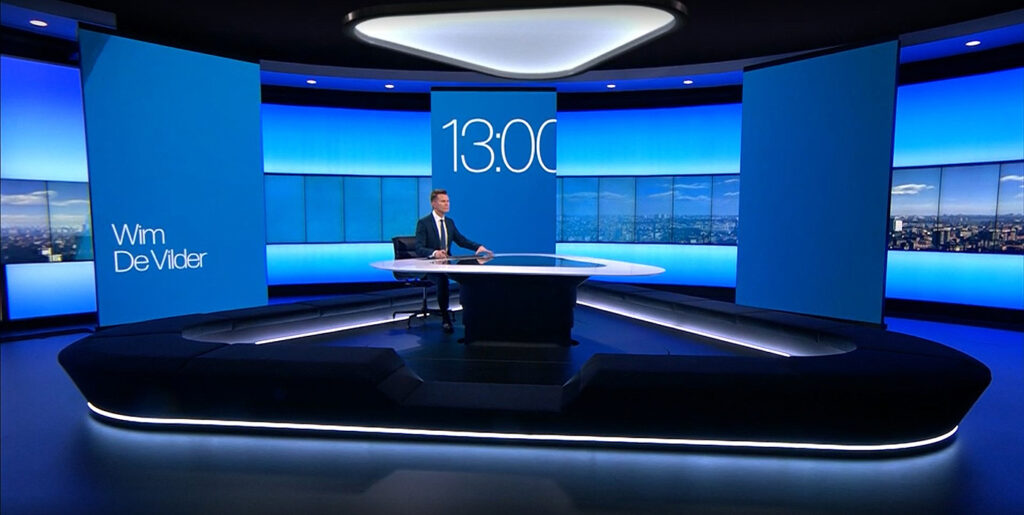 Setup and workflow
Taking VRT as an example, their linear studio exists in different parts. The biggest set in the studio is for the main TV-news every day. Then there is a greenkey-corner for the weather report and other smaller TV news-shows such as VRT's news program for kids: 'Karrewiet' on their channel 'Ketnet'.
In VRT's case, the workflow follows the schedule of the broadcasts throughout the day. Het Journaal is broadcast 3 times a day on 'één', VRT's main TV channel: at noon (1 PM), the 7'O Clock news at 7 PM, and a late night edition at 10 PM. This translates into the following flow of events: After an editorial meeting, it is decided which topics will be covered. Journalists are then assigned to go out and create these news items. iNews and TinkerList are used at VRT as newsroom systems. These keeps an overview of all the content associated with each item and it allows each member in the newsroom to work together and build the rundown for each edition.
The content usually consists of texts (for the anchor, as well as voiceovers in the news item), graphical elements to be used in the item itself and the studio, and of course, the video file containing the actual item. With all that info, a rundown is built. A rundown is a chronological item-by-item overview of a broadcast with all necessary information and media attached.
Thus, the assigned journalist goes out with a camera crew to shoot the needed sequences and interviews. If necessary, videos from news agencies or the VRT archive are available for use.
Consequently, this video is edited on location or back at the VRT newsroom, saved to the central storage, and linked to a placeholder in the rundowns. After these steps, the video can be used in the gallery for playout. All the other content gets collected and linked in the rundown: graphical elements, texts appearing on the autocue for the anchor to read, and elements to help the director select different cameras later in the studio.
Subsequently, the rundown is exported to an automation tool (for example) VizRT Mosart, which displays it in an operator-friendly way. This tool also connects to all the different hardware and software in the studio. By stepping through it with 'F12', the whole show is broadcast under the orchestration of the automation tool in the 'Het Journaal' gallery. Clips will play, cameras will move to their preset positions and cut to air, and graphics will be triggered. Finally, the news is freshly delivered to the audience.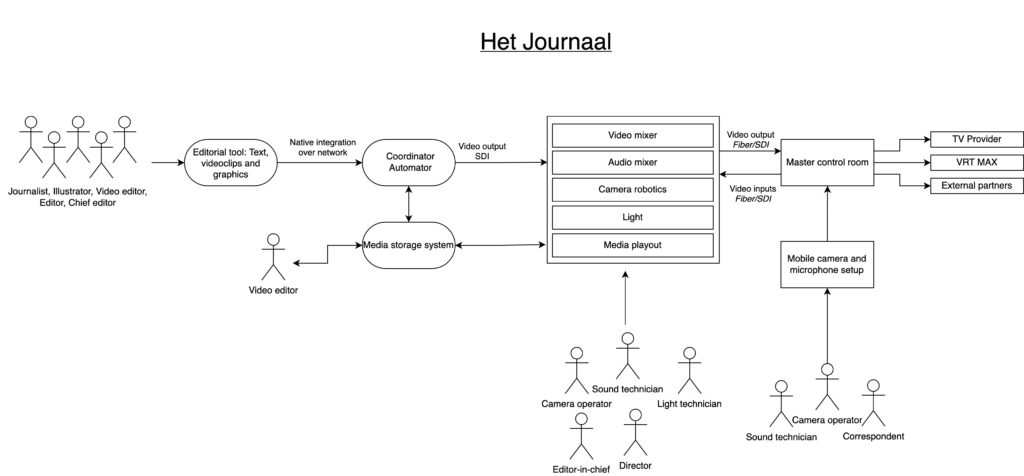 Challenges
Because of the constant news flow and the challenge to get consumers' attention, viewership of linear television at fixed times each day has declined and continues to do so, especially for younger generations. Moreover, linear television is not very interactive which makes the viewer disconnect from the channel faster. In the video below, the importance of consumer engagement is explained.
Non-automated stations that keep a manual approach have many people in their control room. They operate playout devices, graphics systems, vision mixers and a whole plethora of different devices. The challenging part for the production team is the constant back-and-forth feedback loops and bottlenecks. Specialised operators are needed to manage the broadcast which slows down the workflow and makes it heavily dependent on their availability. Hence, this makes the linear studio less flexible than the online web studio.
Now let us look at online news production to understand the difference.
Online news production
Setup and workflow
For the online VRT NWS web studio, VRT built two sets in the heart of the newsroom: one called the 'fast live set'. This set lets them go on air instantly when there's breaking news. The second one is more laid back to do interviews. The image below illustrates the more laid-back interview salon.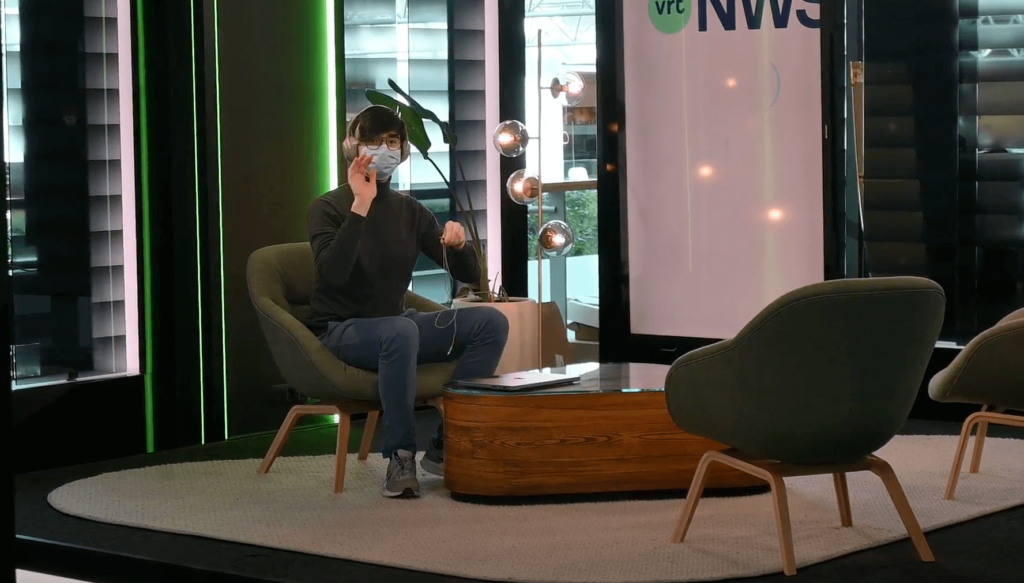 The setup of this studio is far less complex while still very powerful. At the heart is a powerful Windows PC running a copy of 'vMix'. This now well-known piece of software has several functions:
It is a very powerful vision mixer giving far more expensive hardware solutions a run for their money
It can playout clips and playlists of clips
It has a powerful titler capable of integrating data sources, and a basic built-in audio mixer
At the same time, it can generate several multiviewers for operators, 4 different output channels (a dirty PGM, a clean feed and 'international' feeds for example).
Furthermore, it natively supports NDI inputs and outputs and you can integrate SDI input and output cards. VRT uses SDI inputs for their cameras, and outputs from vMix as SDI again, to its Master Control Room.
Panasonic HE150 PTZ cameras are the cameras used in the VRT NWS studio, and an external and manually operated audio console completes the setup. All together, this technological setup is far less complex to configure, maintain and operate.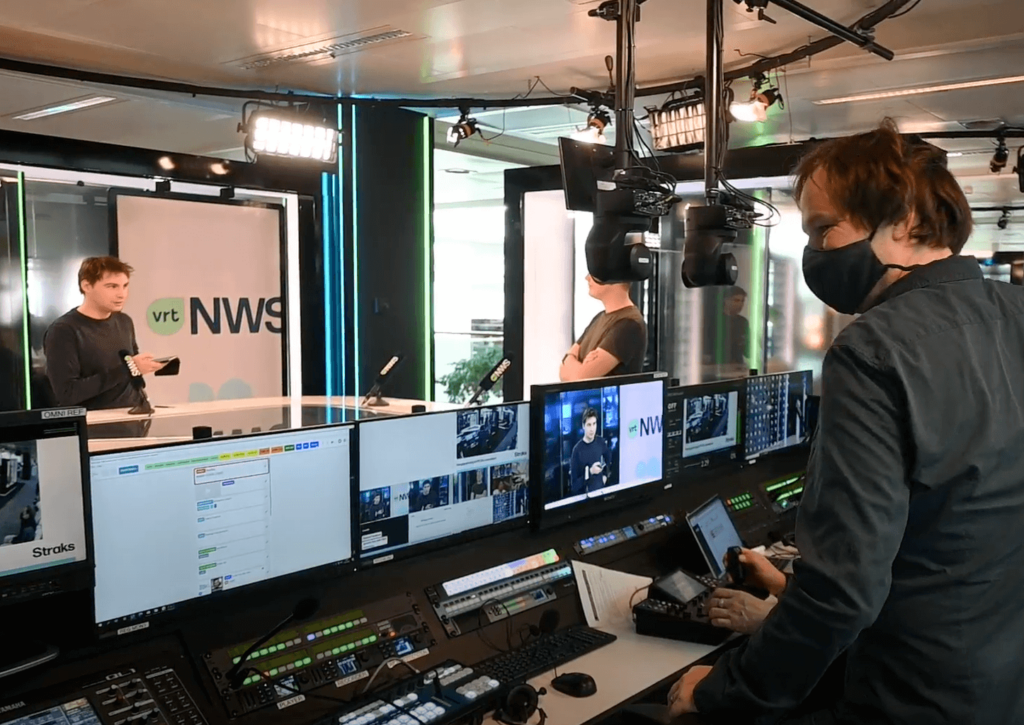 Also for the online studio, TinkerList is used as a central point to build the rundown. Graphics and videos are prepared in this software, just as for the linear news studio. The biggest difference here is that vMix is used for switching, playout and graphics. It's still operated manually. The output is then sent to the Master Control Room, where it is converted to a web-friendly resolution and streamed to the corresponding streaming servers.
This innovative collaboration between TinkerList and VRT happened in the context of the STADIEM project, Tinkerlist automated the VRT NWS web studio which created a much more fluent workflow.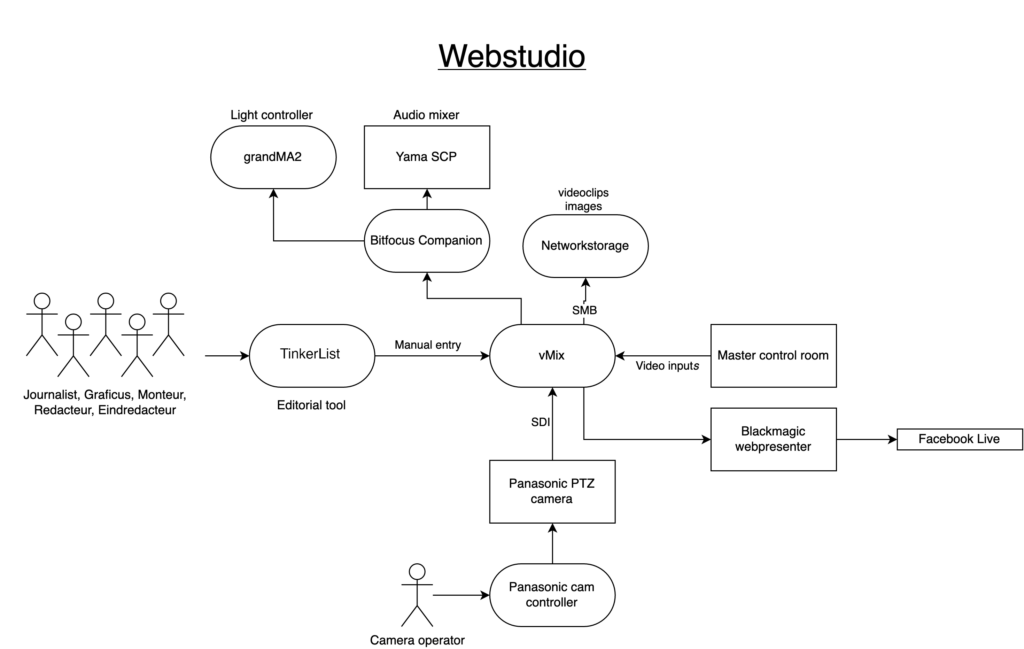 Challenges
Going live several times a day can be mentally exhausting. There is less time overall to prepare and rehearse the program before you hit the "go live" button. Moreover, there is an extensive list of responsibilities that has to be divided over a small team. Many responsibilities go to a few people and crew members need to receive sufficient training for each part since the set is also technologically advanced.
Have a look at what editor-in-chief An Toeloose and director Thomas Van Praet had to say about their jobs at the web studio:
Comparison table
Typical Broadcast TV studio
Web Studio
Crew
8 in total (at VRT):
director, director's assistant, graphics producer, sound engineer, floor manager, camera operator, editor in chief, editor
Without automation: up to 20 people for all different positions
Can be 0 after automating.
Now 4:Director, sound engineer, video technician (operates vMIX and cameras), editor-in-chief
Size
Full size studio, separate control room, separate sound booth
Small studio (can be a conference room), one single desk for equipment and crew
Equipment size
Separate room, with several racks full of equipment
One rack with limited hardware: one PC, network switch (TBC!)
Cameras
Broadcast box-cameras, separate B4 lenses
Panasonic HE150 PTZ cameras
Robotics
At VRT: separate Ross Furio camera robotics (with tracks)
Other stations: many options, from many different companies (Vinten, Rademec, …)
None: PTZ cameras, can also be mounted on tracks
Studio Automation
At VRT: VizRT Mosart
Tinkerlist
Video Mixer
At VRT: GVG Kayak
Many choices possible: Sony, Ross Video, …
vMIX
Graphics
At VRT: VizRT (big setup with several Viz engines)
Other stations: Xpression, Ventuz, …
vMIX, Singular HTML graphics)
Clip playout
Many choices: Avid, GVG, …
vMIX
Audio desk
Many choices: Lawo, SSL, Calrec, DHD, …
Small audiodesk
News Room System
At VRT: Avid iNews
Other stations: WolfTech, Dina, Octopus, ENPS, …
Tinkerlist
What potential is there for the online web studio?
One of the advantages of the web studio is that its workflow no longer depends on technical specialists. Thanks to automation and user-friendly technology, the studio requires fewer people to operate it. Furthermore, these people don't need the specialised skills of a linear studio to create a broadcast successfully.
The chosen technology is less complicated and more software-driven instead of hardware driven. The lower technological threshold also yields a lower cost. This created a way of news-making focusing on the content instead of the higher production value imposed in the linear studio.
The online news studio produces news content that is also more easily accessible and digestible. With our smartphones, internet connection and social media, news is literally at our fingertips at any moment of the day.
However, as mentioned before, the arrival of the web studio does not intend to replace the linear news studio but rather complement it. The web studio intends to reach people with breaking news items on social media and news apps and be as interactive as possible with its audience.
On a final note, according to An Toeloose, editor-in-chief of 'Het Journaal' and 'VRT NWS' at the Belgian public broadcaster VRT, these web studios will always remain an addition to the linear news studio and won't replace them: