Rundowns are a necessary tool for any size professional event or show. In a talk show setup, the rundown is a technical translation of the script. It can be called many different things depending on the industry you're in. Lightweight event might call it an 'agenda', while the sports industry will refer to it as a 'game script'. However, they essentially all mean the same thing: an item-by-item plan for any live experience. In order to confidently run your show, there are myriad of these pieces of information that need to be documented and structured in one accessible place.
What, who, why?
Rundowns usually look like a spreadsheet with rows and columns, with the rows displaying different segments of the show and the columns displaying the different types of cues such as audio, video, and lighting. Traditionally, they have been made using table-based editors like Excel or Google Spreadsheets. However, when you're producing a talk show with textual, audiovisual, and graphical content, technical information, cues,…you want a more structured and collaborative platform.
When creating a talk show, the rundown is made by the director's assistant (or PA) for the technical staff such as the tech operators, director, gallery, light and sound, floor manager… It is imperative to keep a clean overview of the show and collaborate with the editorial team in a well-structured way. However, given the chaotic, ever-changing and fast-moving pace of talk show productions, things can get messy.
First off, we'll start with the many challenges that talk show producers have to face. Consequently, we'll discuss the pros and cons of some available tools on the market. Whether you relate to the following challenges or not, you will have an understanding of how many applied tools in the industry are not ideal for talk show sets, live shows, virtual events or other big productions.
Challenges when creating a rundown
No sync between the script and the rundown
In traditional rundowns, the show rundown and script are not in sync with each other, which means that with every (last-minute) change of the script, the rundown needs to be adapted, resaved, reexported, reprinted, and redistributed to the crew.
Moreover, the change of names of images and clips AND their order, makes it almost impossible for the production team to put the right content (often stored on an external hard drive) in the right place.
Keeping track of timings
It's important to accurately time out your show to get a good overview for the team of how much time is assigned to what segments, where there's room for flexibility or where the schedule will be a bit too tight.
Now, the estimated duration of every item in the rundown is based on prior calculations. When following along the show, the PA has to constantly time every segment, register it themselves and calculate how much the real timings deviate from the estimated ones for the report afterwards. This is a tedious and error-prone task, to say the least.
However, dedicated rundown software such as TinkerList's automatic time calculations can help you accurately calculate the timings of your show and automatically manage and adjust your timings when going live. On top of that, our specialized timing app assists directors, assistant directors and show runners to keep track of timing in their shows.
Moreover, our 'floating elements' allow you to add or remove items from the rundown and script according to the timing schedule.
Lack of a rundown template = wasted resources
Having a well-working, efficient and understandable structure of the rundown is key and being able to apply the same template to several productions over time will save you a lot of resources and energy. Imagine working on a 40-episodes series with 60 different producers, each using a different script… To manage those is a literal nightmare, not only for the PA.
Fortunately, the TinkerList calendar allows you to create scripts and rundowns on the exact day that you need them. Moreover, you can easily turn any script and rundown into a template and have it easily accessible from the calendar.
Tools to create a rundown
There are 4 different types of available tools, one more efficient than the other, which we'll discuss right now:
Spreadsheets: Excel/Google Spreadsheets/Notion
Everyone probably has heard of Excel, Google Spreadsheets or other table-based software. They consist of rows and columns and allow you to create grids of text, numbers and formulas.
Whereas they are decent and capable as rundown tools, they show quite some limitations for television productions and other more complex media shows as they're basically just a list of events for the technical staff.
PROS
Cheap
Comprehensive & accessible interface, no specific technical training required as most people probably have used it before
No specific technical training required
Easy to export and print
CONS
Chaotic (especially for bigger teams and projects)
Limited collaboration
No sync with script or studio devices so no real-time updates
No instant communication (tedious version management, endless back-and-forth emails with updates of the status of the script, etc.)
Cumbersome work to adjust access for different roles of the team
Hard to track and manage errors and mistakes
Manual data entry/formatting/colour coding/… which raises the costs and time that you could have spent on the development of the actual project instead
No running timers for the show (cf below)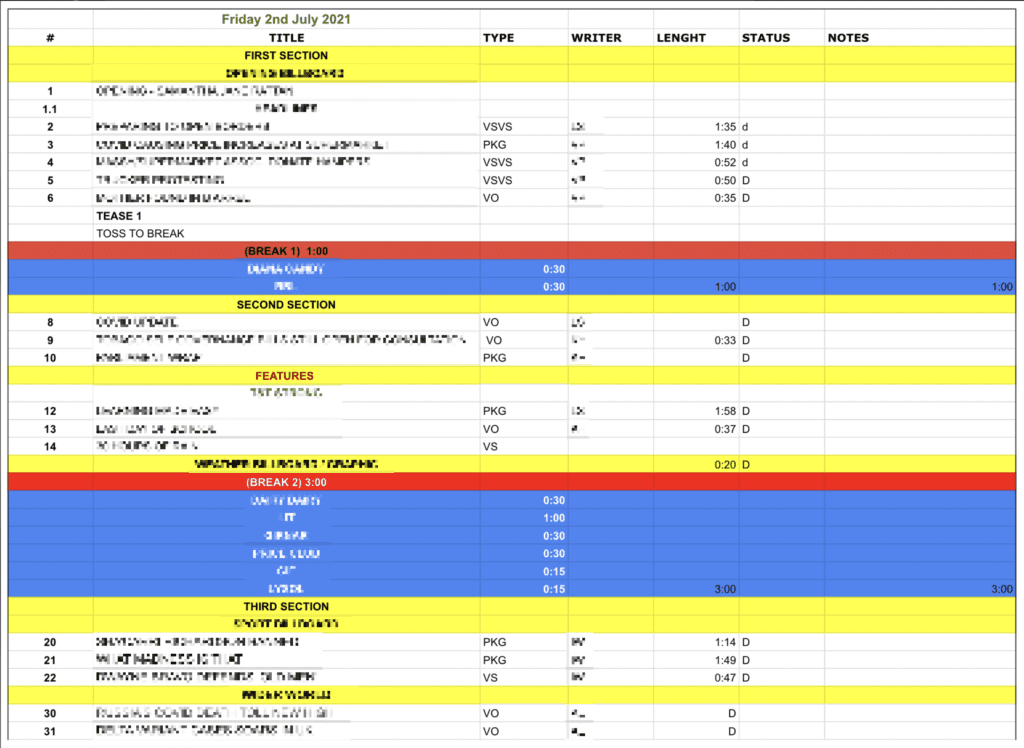 Rundowns with limited integration capabilities: Rundown Creator and Shoflo
Next to the traditional spreadsheet software, there are the rundowns which basically are web-based software used to schedule, plan, and organise media shows. They are a more professional alternative but still have many limitations regarding integrations, scripts, and timings for talk show production.
PROS
Cloud-based
User management (through production activity)
Real-time & remote collaboration
Professional, specifically made for the TV industry
Run on all devices
Affordable
Built-in web-based teleprompter
Timing module, you can cue the rundown
Creating templates
CONS
Limited device integrations
No syncing with external prompters
Workflow depends on internet connection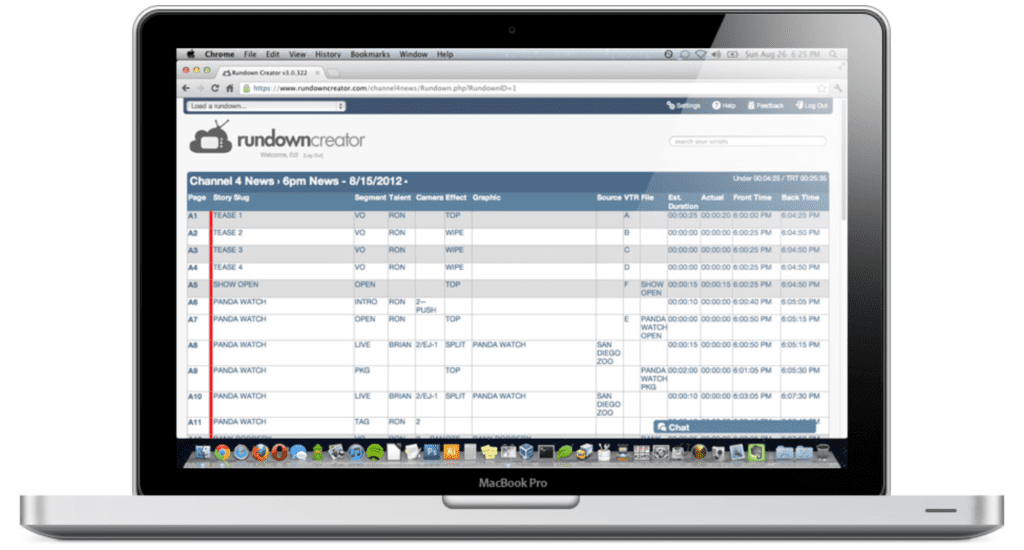 Fully integrated rundowns: TinkerList
Subsequently, there's us, TinkerList!
We're cloud-based as well but we can integrate with ALL the necessary studio devices for the making of a full-on professional talk show. This enables the creative team to focus more on the content than the technical aspect of the production.
PROS
Cloud-based
Real-time & remote collaboration
Powerful calendar with integrated media and graphics in the script
Integrated with the full professional studio environment
Syncs with third-party prompters (instant updates)
Syncs with presenter tablet (instant updates)
Syncs with our Cuez app to trigger and play media
User management suitable for production teams
Automated timings
Script/rundown templates
Multifunctional, affordable, accessible, user friendly
Automation of the studio
Excellent customer service
CONS
Syncing the studio with the script requires internet connection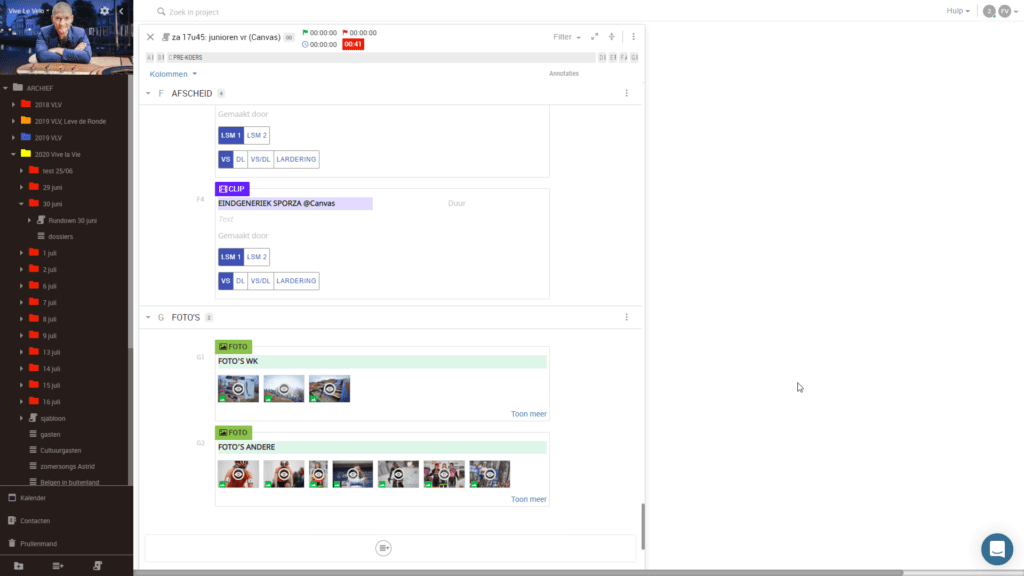 Newsroom Systems (NRS): iNews , Octopus
Finally, there are newsroom rundowns focused on news production such as iNews and Octopus NRCS. iNews is a script-based editing system that uses a combination of text, sound on tape soundbites (SOT), cover images (B-roll) and narrative track. As you hear it in their name, they focus on the news broadcasting industry.
Octopus NRCS offers, besides the regular news production capabilities, advanced collaborative planning, social media workflows, AI functionalities and state-of-the-art integration with studio automation systems. They set foot in multiple industries such as news, radio, eSports and WebTV.
Both consider themselves as the 'heart of every newsroom', which gave them a prominent, reliable and respectable spot in the NRS scene.
PROS
On premise servers
User friendly
Elaborate timing module
Automation possibilities using third-party tools
Prompter integration with third-party prompters
Renowned systems: reliable, trusted reputation
Support Media Object Server Protocol which allows newsroom computer systems (NCS) to communicate using a standard protocol with video servers, audio servers, still stores, and character generators for broadcast production.
CONS
On-premise servers 😉
High-end so also expensive (starts with the installation of the servers which is already 250k)
Not cloud-based, local (offline) hosting
Automation only possible through third-party tools such as MOSART
Outdated interface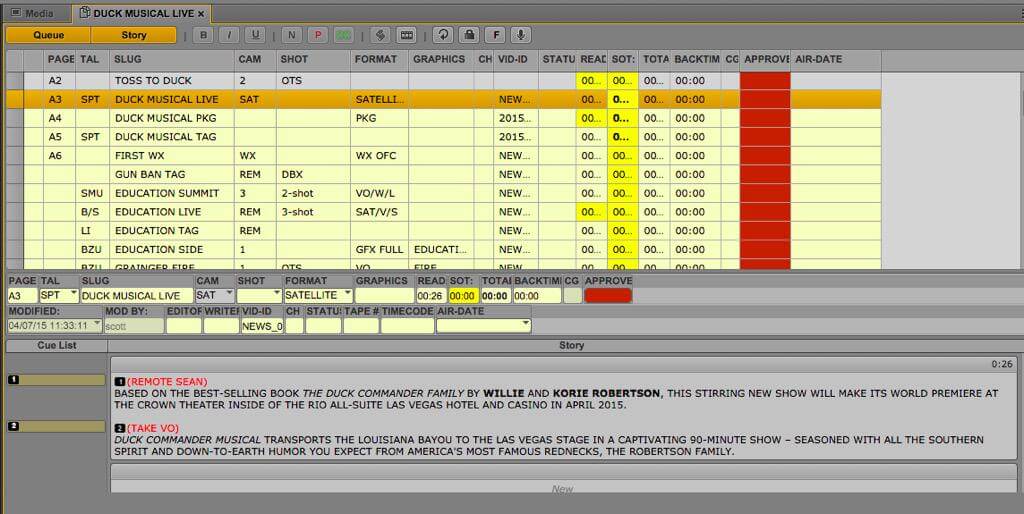 Which rundown software is best for talk shows?
Anyone who is responsible for producing an event owes it to themselves to experience the difference between the media workflow of a standard spreadsheet and a dedicated rundown software.
However, with TinkerList, you can let your team collaborate in real-time from any device and any place, and enrich the script and rundown with media in the cloud. Having the media in the right place in the script itself and having a rundown that gets automatically created from the script AND stays in sync with it, is one of TinkerList's most popular benefits — it's especially appreciated by the technical part of the production team! On top of that, it can be completely tailored to the needs and requirements of your show.
With the automated Rundown, the talk show teams can finally:
Forget about tediously updating the rundown every time there's a last-minute change in the script.
Allow the engineers to store and play back (rehearse) media way before the show starts, to avoid mistakes during the actual recording.
Verify if the script has any errors, such as typos or incorrect lower thirds, to ensure a 100% error-free broadcasting experience.
Not convinced yet? Take a look at our customer page and customer cases.